The Executive Director of the Lithuanian Clusters Association, the President of Užupis Creative Cluster, the Head of Information Security Cluster, also the founder and director of other clusters Marius Pareščius became international clusters benchmarking expert. On 3rd of March, the European Secretariat for Cluster Analysis (ESCA) located in Germany issued international certificates for cluster experts from Spain, France, Germany, Latvia and Lithuania after intense training.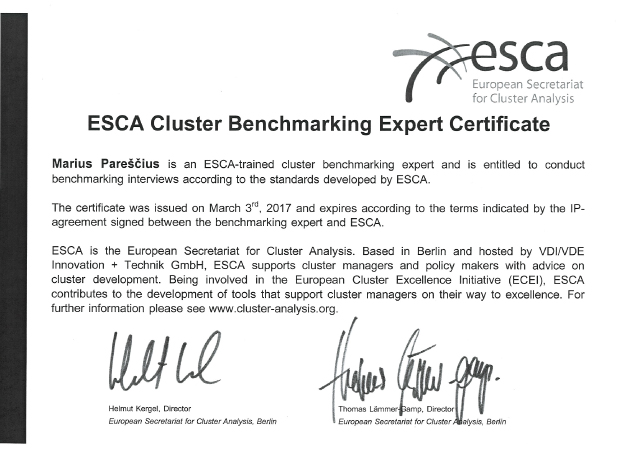 "ESCA – a network of specially trained experts, uniting more than 150 cluster specialists from 30 countries, who evaluate clusters in the whole world regarding viewpoints of these organizations as well as the competence of their management processes, provided services and promotion of activities", claims the Director of the European Secretariat for Cluster Analysis Helmut Kergel. "Clusters of high competence play a significant role in implementation of regional innovation strategies, therefore, we are interested to develop their competence, we implement various support, mentoring and consulting projects".
ESCA certificate — competitive advantage, international recognition
Even several institutions subordinate to the Ministry of Economy take care of clusters development in Lithuania: Agency for Science, Innovations and Technology (MITA) is responsible for implementation of innovation policy in the country, the Lithuanian Innovation Center (LIC) provides innovation support services, Versli Lietuva promotes entrepreneurship, sustainable and modern business development, ecosystem of startups, export and others. However, there is no national cluster evaluation and accreditation system yet.
According to MITA Director Kęstutis Šetkus, ESCA evaluation creates large prospects and possibilities for Lithuanian clusters. "It is very important that Lithuanian clusters aimed to gain such international certificate, which is valid in the whole Europe and is a recognition of cluster management, maturity and competence. Certification increases opportunities for clusters to become involved in international networks, provides competitive advantage in local market and more possibilities to be noticed in international space. The main benefit of certification for a cluster – prestige and reputation, which opens ways for new opportunities", assures Mr. Šetkus.
Only one out of more than 50 actively operating clusters in Lithuania has been evaluated
Currently there are a little more than 50 actively operating clusters in Lithuania, though there is many more established. During the period of new EU investments, it is aimed to ensure maturity of already established clusters, promote their competitiveness, creation of innovative products, development of export abroad and access to international networks. Clusters operating in Lithuania only are only approaching maturity and starting to obtain necessary skills, which are needed to enter international markets.
According to the new ESCA clusters benchmarking expert Marius Pareščius, in order to become a certified and acknowledged cluster is not easy, it is a result of meticulous and long-term activity. "System of evaluation created by Germans is tricky and complicated. Three-step certification system (bronze, silver and gold) is based on a large amount of indices and, in order to meet them, it is necessary to work hard for years. If it is not complicated to receive bronze, and almost every active Lithuanian cluster can get this evaluation, not every cluster can be evaluated with silver or gold certificate not only in Lithuania, but also in Europe. Latvians and Estonians already have one Silver Label cluster – it is a challenge for Lithuanian clusters, and I hope that we will attain at least one cluster certified with Silver Label after couple of years", – claims the expert.
It is also highly significant that Marius Pareščius speaks Russian, it opens new opportunities to work in a Russian-speaking region, for instance, to consult or certify newly emerging clusters in the neighboring Ukraine, where clustering currently only accelerates. It is a fine possibility for Lithuanian companies and clusters to implement international development and join international clusters, connecting several countries.
Henceforth — more opportunities to achieve heights of competence and recognition
"After training in Dresden city in Germany for the first time a Lithuanian became an ESCA cluster benchmarking expert. Lithuania was provided a direct access to treasury of ESCA knowledge and experience" – claims the Director of the European Secretariat for Cluster Analysis Helmut Kergel.
International recognition is particularly important for the majority of active clusters, and to have one's very own expert is not only convenient for Lithuanian clusters, but also cheaper and more effective, than to invite specialists from abroad every time. One more advantage – a cluster expert, who speaks Lithuanian, since up to now all cluster experts and guru that visited Lithuania spoke English and other languages, therefore, whole documentation for certification had to be prepared in English, had to be translated, approved, and etc.
"After appearance of an international clusters benchmarking expert, it is likely that national clusters will have more opportunities to be evaluated and to become more prominent in international space", says MITA Director. "It is also probable that new opportunities will open for cluster facilitators to raise qualification in order to achieve cluster maturity not only when using experience of foreign experts, but also when exchanging knowledge. Recognition of one representative of Lithuanian clusters as an international cluster benchmarking expert indicates that clustering in Lithuania is going in the right direction and efforts put when developing clusters show results".