A large package of issues important for clusters was discussed during the Cluster Forum on 25th of April. A new space of the Lithuanian Clusters Association – business center Business Hive Vilnius, was presented to a large number of representatives of clusters coordinators, the Ministry of Economy and its subordinate institutions as well as agencies.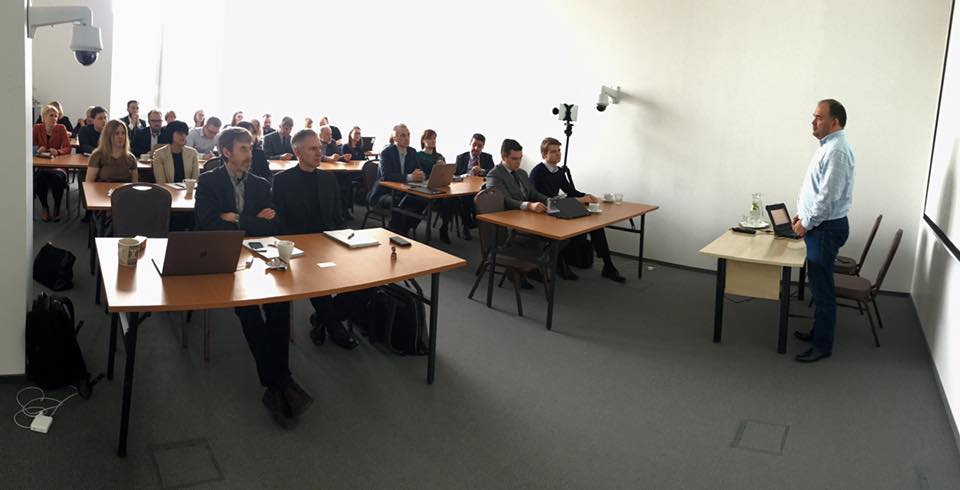 Marius Pareščius, the Executive Director of Cluster Association and the only ESCA certified cluster benchmarking expert in Lithuania, spoke about possibilities of cluster certification and practice on certifying clusters in Lithuania and Germany. According to Marius, it is quite early for Lithuanians to dream about Gold Label, however, for the majority Bronze Label and for some Silver Label are within arm's reach.
Representatives of UAB PricewaterhouseCoopers presented a preliminary first part of Clustering Study Report performed under the order of the Agency for Science, Innovations and Technology (MITA) – Clusters Survey Report. The presentation received critique regarding some inaccuracies and incorrect statements and conclusions. It was agreed that the mentioned report will be revised and corrected according to provided comments.
According to the Head of MITA projects who monitors the Clustering Study, after having received comments in the forum UAB PricewaterhouseCoopers plans to remake the report according to received comments and data, and only then to provide it again for clusters evaluation. MITA gave them time to prepare a presentation, which would meet all expectations, and later on will send it for all the interested. MITA plans to send the corrected presentation at the end of the 18th week or at the beginning of the 19th week.
The second invitation of European Union structural funds tool Inoklaster LT presented by the Head of Science and Innovation Projects Department of the Lithuanian Business Support Agency (LBSA) Sigita Skrebė received great interest as well as the tool InoConnect and possibilities of European companies network presented by the Head of Lithuanian Innovation Center (LIC) projects and one of the best experts of clusters development tools Dr. Artūras Jakubavičius.
Some participants waited on purpose for the last presentation of the forum on good practice using 2014-2020 program for the Competitiveness of Enterprises and Small and Medium-sized Enterprises COSME, which was presented by LITEK Cluster Project Manager Kristina Ananičienė. The good example of colleagues inspires: consortium of three largest participants from Lithuania, France and Austria was assembled and successfully operates.
The last Cluster Forum was one of the most abundant in number of participants, they barely could fit in the hall of 40 seats. The event was also broadcasted live on the Internet on social network Facebook account of the Lithuanian Clusters Association.